Amazingly Affordable Investment Apartments
8 Mins from Brisbane's CBD in Trendy Suburb of Nundah
1 Bedroom + Car from only $330,000 !
2 Bedroom + Car from only $465,000 !
Looking for an alternative affordable investment to Sydney or Melbourne?
The brand new Link Development in the up-and-coming suburb of Nundah only 8 minutes drive to Brisbane's CBD could be exactly what you're looking for.
About Nundah

Nundah is a growth suburb of Brisbane located in the "golden employment triangle" between Brisbane's Port, Airport and CBD and accessible to over 225,000 workers within a 7 km radius.
Nundah is an emerging property "Hot Spot" enjoying urban renewal at an ever gathering pace – popular among investors and owner-occupiers alike. Its vibrant village atmosphere with bars, cafes and shops makes it the perfect place to live, socialise and work.
Woolworth's supermarket is in the heart of the suburb and nearby Toombul Shopping Centre is home to 110 specialty retailers, Target, Kmart, Coles, Aldi and a cinema complex.
Education providers are conveniently located within close proximity and in total some 47,000 tertiary students are enrolled in institutions in adjacent suburbs.
Less than a 10 minute drive away is the Royal Brisbane and Women's Hospital, Queensland's largest and busiest hospital.
About Link

With 83 apartments over 8 levels The Link contains a combination of One Bedroom Apartments, One Bedroom + Study Apartments and 2 Bedroom Apartments.
Each Apartment comes with a secured underground car-space on title.

Extract from The Link Brochure
" The Link residence is the epitome of style, sophistication and comfort providing residents with a place to retreat from the hustle and bustle of daily life. The spacious open plan living areas and generously proportioned balconies allow for easy entertaining. The ergonomically designed, fully equipped kitchens and stainless steel appliances and state-of-the-art equipment makes hosting a breeze.
Chic styling meets comfort and security with each residence equipped with fully ducted air-conditioning and an automated intercom entry system.
The spacious and lush rooftop garden contains gazebos, barbecue facilities and picturesque alfresco dining areas where residents of The Link can enjoy entertaining and relaxing in a sophisticated environment."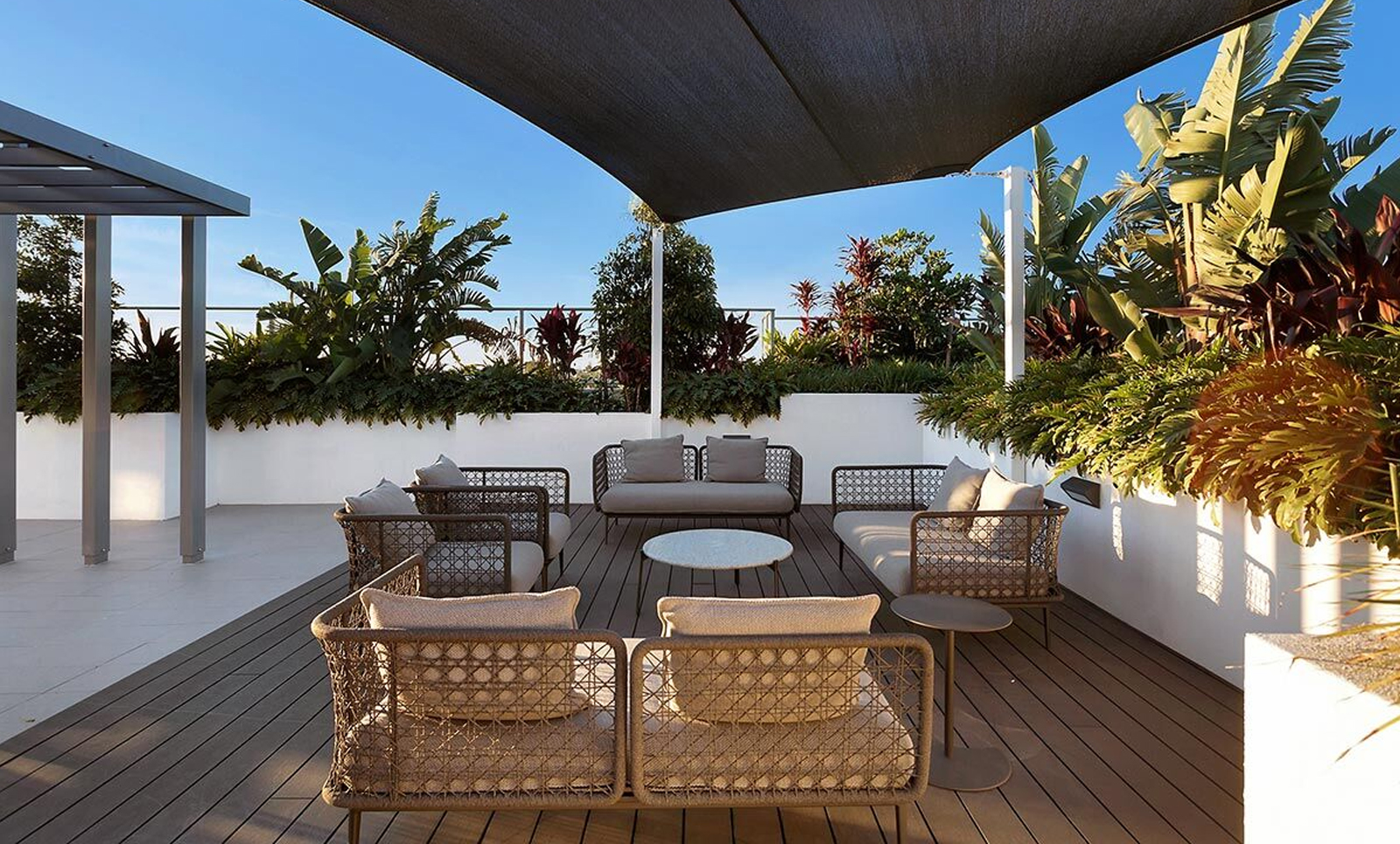 Amazing Value when compared to Sydney and Melbourne prices
Excellent buying-in opportunity for Personal Investors, SMSF Investors and Owner Occupiers alike.
Dynamic Growth Potential
Nundah has that trendy feel of say Balmain in Sydney or Brunswick in Melbourne before these suburbs took off and became prohibitively expensive.
And the "The Link" Development is ideally placed to take advantage of this up-and-coming trendy Suburb with its village atmosphere – and so offers the investor the potential to enjoy substantial capital growth over the years ahead.
Interest Rates at Historically Low levels
This is good news for Investors wishing to borrow. Also this low interest rate climate is expected to give the property market a significant boost…so now is an excellent time to be contemplating investing.
However if you have a SMSF holding cash within the bank the lowering of interest rates is not good news. So a 5% + Yield being offered at The Link for those investors with cash at their disposal is looking increasingly attractive. Plus the prospect of significant Capital Appreciation (which you do not get with bank deposits.)
Flexible Purchasing Options
The investor has 3 separate purchasing options:-
Option No 1: Purchase as an Owner-Occupier.
Option No 2: Purchase as an Investor and appoint your own property manager and source your own tenants
Option No 3: Let "The Link" experienced In-House property management team look after your apartment and source tenants on your behalf.
The start off rental will be a minimum of 5% secured for the first 12 months after sourcing a tenant for you in this high rental demand area.
For our NSW, Interstate and Overseas clients we offer a fully comprehensive in-house service to assist you with putting the whole investment package together – either within a SMSF framework or outside of Super – including funding, accounting and conveyancing contacts.
We find that these days most people are time poor so we offer a One Stop Investment Property Service. We do not charge any fees to put everything together for you – we get remunerated directly from the developer (not from you).
You are welcome to avail yourself of our 21 day obligation free holding deposit mechanism. For those clients wishing to secure an apartment without obligation all we require is an EFT of $2,000 which is held in trust for you in the Vendor's Trust Account.
This ensures that the selected apartment is not sold to anyone else within the 21 day period whilst you do your due diligence.  And if at the end of 21 days you decide not to proceed (for whatever reason) the $2,000 will be paid back to you in full
If an Apartment is of interest, please respond back to us ASAP – since this is the final Tranche of Apartments for sale within this Link development.