INVEST IN DYNAMIC AFFORDABLE CANBERRA
Here's an exciting opportunity to invest in one of Canberra's most attractive new Developments…"Black Diamond" Aspen Village in Canberra's satellite suburb of Tuggeranong located adjacent to the picturesque Tuggeranong Lake.

Introducing Black Diamond within Aspen Village on Tuggeranong Lake
Canberra offers an excellent investment alternative to Sydney and Melbourne with easy access from both of these Capital Cities (by car, plane or train) and offers outstanding investment value when compared to the overinflated prices of Sydney and Melbourne…and indeed in parts of Brisbane.
And Black Diamond is an absolutely stunning Development with construction about to start…so here is your opportunity to literally get in on the ground floor prior to construction commencing….with the potential of garnishing attractive capital appreciation on completion (anticipated completion date of Dec 2021).
About Black Diamond (extracts from the official Black Diamond Brochure)
Black Diamond delivers a unique intersection of modern luxury living on Canberra's unspoilt natural fringe.
The site, the design, the vision…. It all comes together brilliantly delivering something truly remarkable that Canberra has never seen before. Inspired by the rich alpine cultures of Europe and North America, Black Diamond melds this luxuriously relaxed, nature-filled lifestyle with all the buzz and amenity of modern urban living.
The Black Diamond Development is an integral part of the brand-new Aspen Village complex which also includes the "Aspen" residential building and Retail Precinct.
The innovative concept of a fully integrated and self-sufficient Aspen Village will provide the residents of both Black Diamond and Aspen with all encompassing amenities (including cafes, restaurants, shops and gym etc) set within its own self-contained precinct literally on their doorstep.
Black Diamond itself captures amazing views in all directions, with Lake Tuggeranong and the majestic Brindabellas to the forefront.
Black Diamond connects you to every modern amenity including the retail and transport hubs of Tuggeranong Town Centre and beyond.
Venture out to experience a world of outdoor adventure on your doorstep or relax in the sophisticated alpine tranquillity of home.
About The Apartments
Selection of 1, 2 & 3 Bedroom Apartments – beautifully conceived and artistically designed – from only $330,000.
Modern sophistication meets alpine charm in two uniquely curated interior design schemes brimming with high-quality inclusions and appliances. Style your interior to suit your lifestyle with your personal choice of high end finishes and colour. No matter which you choose, every light filled apartment is completed with ample storage. Extensive private and public underground parking.
Black Diamond is SMSF Compliant
These Black Diamond Apartments make excellent investments for a SMSF.   They are fully compliant with SMSF Legislation (which prohibits lending on House & Land Double Contracts). 
About The Amenities within Black Diamond
The Summit – a luxurious outdoor rooftop entertaining area spanning over 2200 m² including private BBQ, bar & dining facilities, landscaped lawns as well as rooftop fire pits and heated infinity edge pool… Luxury personified.
The Alpine Bathhouse – overlooking the tranquil waters of Lake Tuggeranong – featuring 12 person sauna and 3 private spa rooms for exclusive residents use with a  boutique selection of 24/7 resort style amenities.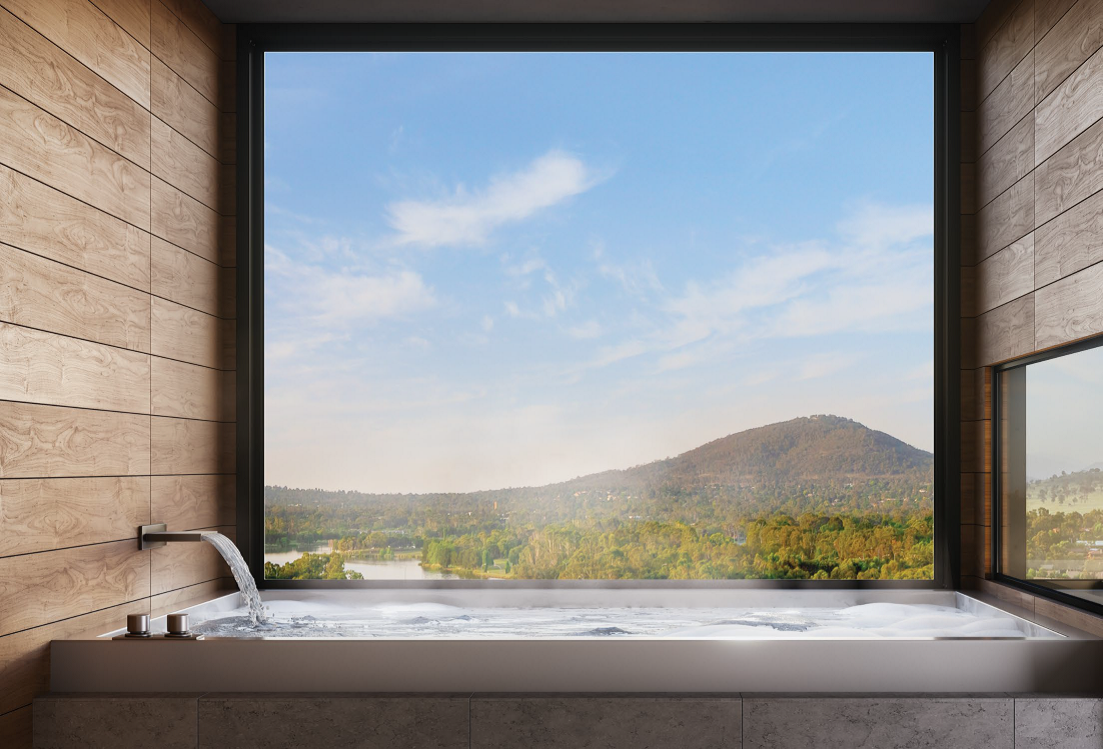 Concierge Service – A complete in-house concierge service is available to assist Black Diamond residents.
Chef's Kitchen & Dining – From casual lunches to private dinners, the perfect setting for any occasion, bookable for private functions for up to 12 people.
Complimentary Car Wash – Add a little shine and sparkle to your vehicle with Black Diamond's complimentary high pressure car wash and cleaning facilities, available 24/7.
Fully Integrated Retail Precinct within Aspen Village
Black Diamond is set within Aspen Village which includes a buzzing retail precinct literally on your doorstep – with an artisanal pizzeria, gastropub, coffee shop and bakery as well as grocery store, bottle shop and gym
Ideally Located Transport Hub
1 minute walk to Lake Tuggeranong
5 minute walk to South Point Shopping Centre
15 minute drive to Canberra's International & Domestic Airport
20 minute drive to Canberra CBD
113 minute drive to Jindabyne, the gateway to the Snowfields
120 minute drive to Beaches on the South Coast
210 minute Drive to Sydney's CBD
7.5 Hrs Drive to Melbourne's CBD
Why Invest in Canberra
There has never been a better time to live, work or invest in Canberra. Australia's youngest capital city is undergoing an unprecedented transformation, with more than $2.9 billion worth of infrastructure projects under way and town centres evolving into vibrant, urban precincts….such as Tuggeranong where Black Diamond is located.
Housing Demand:- Housing Demand in Canberra, being driven by ever-increasing population growth, has been uniformly strong with vacancy rates of 0.8% – their lowest point in the last five years. Demand has also been shifting towards higher density dwellings with apartments now making up 54.8% of all new dwelling approvals.   Strong consistent rentals have been achieved in Canberra over the past several years – with one of the defining factors being from the influx of students from all over the world wanting to study at the numerous first-class universities and educational facilities that Canberra has to offer. Hence Canberra has achieved the lowest vacancy rates of any of the Capital Cities with good quality rental accommodation always being in high demand.  
Population Growth:- The ACT has been growing faster than NSW since 2001. Since December 2014 the ACT's population growth has been higher than every other state/territory, with the exception of Victoria. The ACT Treasury projects the ACT population to grow by 11.5% to 2022.   So with this ever expanding population growth in Canberra, it is anticipated that over the years ahead Canberra will experience significant Capital Growth potential and represents excellent buying in value for investors – especially when compared with Sydney and Melbourne's inflated prices.  
Infrastructure:- The ACT government is investing $3.0 billion in physical and digital infrastructure in the ACT over the four years to 2020-21. The Light Rail Network is currently under construction and is a catalyst for urban renewal of Canberra's town centres.  
Employment Hub:- Needless to say Canberra is an employment hub being the epicentre of the Australian Federal Government – employing thousands of Public Servants contributing to the ongoing high rental demand for good quality property in the Canberra Region..
Why Invest in Tuggeranong
With a population of more than 85,000 and one of Canberra's most relaxed contemporary lifestyles, Tuggeranong continues to experience above-average population, economic and residential property growth.   Tuggeranong is located 20km to the south of the Canberra CBD, an easy 20-minute drive. Rich in parklands and nature reserves, it occupies 117 square kilometres to the east of the historic Murrumbidgee River and borders on Lake Tuggeranong, created in 1987.
The Tuggeranong Town Centre is a major established retail precinct with excellent community amenity and extensive transport connections to the Canberra CBD and beyond via extensive Motorways and the newly installed Light Rail Network.
The region is also considered one of the ACT's employment hubs with a vibrant mix of private businesses and government departments including Dept Human Services and Dept Social Services.
Boasting value for money that is increasingly hard to find elsewhere, Tuggeranong presents the perfect opportunity for owner occupiers and investors alike to enter the Canberra property market.
For Investors, an undersupply of quality homes means that there is high demand for rental properties in the region — making Black Diamond an ideal investment with rental returns up to 7% being achieved combined with excellent prospects for attractive and strong capital appreciation on your investment.
About The Developer:- Geocon – "Canberra's Property Powerhouse"
Geocon is Canberra's largest integrated powerhouse property enterprise with extensive capabilities across development, construction, hospitality management and investment.
Geocon's hallmark is architecturally stunning buildings that truly deliver a new standard of contemporary living, powered by world-class innovation and refreshingly accessible pricing that redefines urban living for the Canberrans of today and tomorrow.
Buying one of Geocon's apartments means living or investing in Canberra's most desirable locations. Close to services, amenities and transport it will add long-term value to your purchase.  
SO BY INVESTING IN CANBERRA, AND IN PARTICULAR "BLACK DIAMOND" WITHIN ASPEN VILLAGE, AN INVESTOR HAS THE POTENTIAL TO REAP SIGNIFICANT CAPITAL APPRECIATION IN THIS MUCH SOUGHT AFTER LOCALE COMBINED WITH STRONG ON-GOING RENTAL DEMAND.


For our NSW, Interstate and Overseas clients we offer a fully comprehensive in-house service to assist you with putting the whole investment package together – either within a SMSF framework or outside of Super – including funding, accounting and conveyancing contacts.
We find that these days most people are time poor so we offer a One Stop Investment Property Service. We do not charge any fees to put everything together for you – we get remunerated directly from the developer (not from you).
You are welcome to avail yourself of our 21 day obligation free holding deposit mechanism. For those clients wishing to secure an apartment without obligation all we require is an EFT of $2,000 which is held in trust for you in the Vendor's Trust Account.
This ensures that the selected apartment is not sold to anyone else within the 21 day period whilst you do your due diligence.  And if at the end of 21 days you decide not to proceed (for whatever reason) the $2,000 will be paid back to you in full
Now is the time to purchase with interest rates at historically low levels.
If an Apartment is of interest, please respond back to us ASAP – since we do anticipate a very high level of enquiry from investors to buy into this cutting edge development with great Capital Appreciation Potential.