Empire Apartments Rockhampton
"Set & Forget" Investment with Outstanding
7.05% Yield for only $295,000!
Outstanding Self Contained One Bedroom Apartments with
100% Guaranteed Lease Back, Fully Furnished for only $295,000
SPECIAL LIMITED OFFER

Introducing "The Empire" in  
opportunity rich Rockhampton, Queensland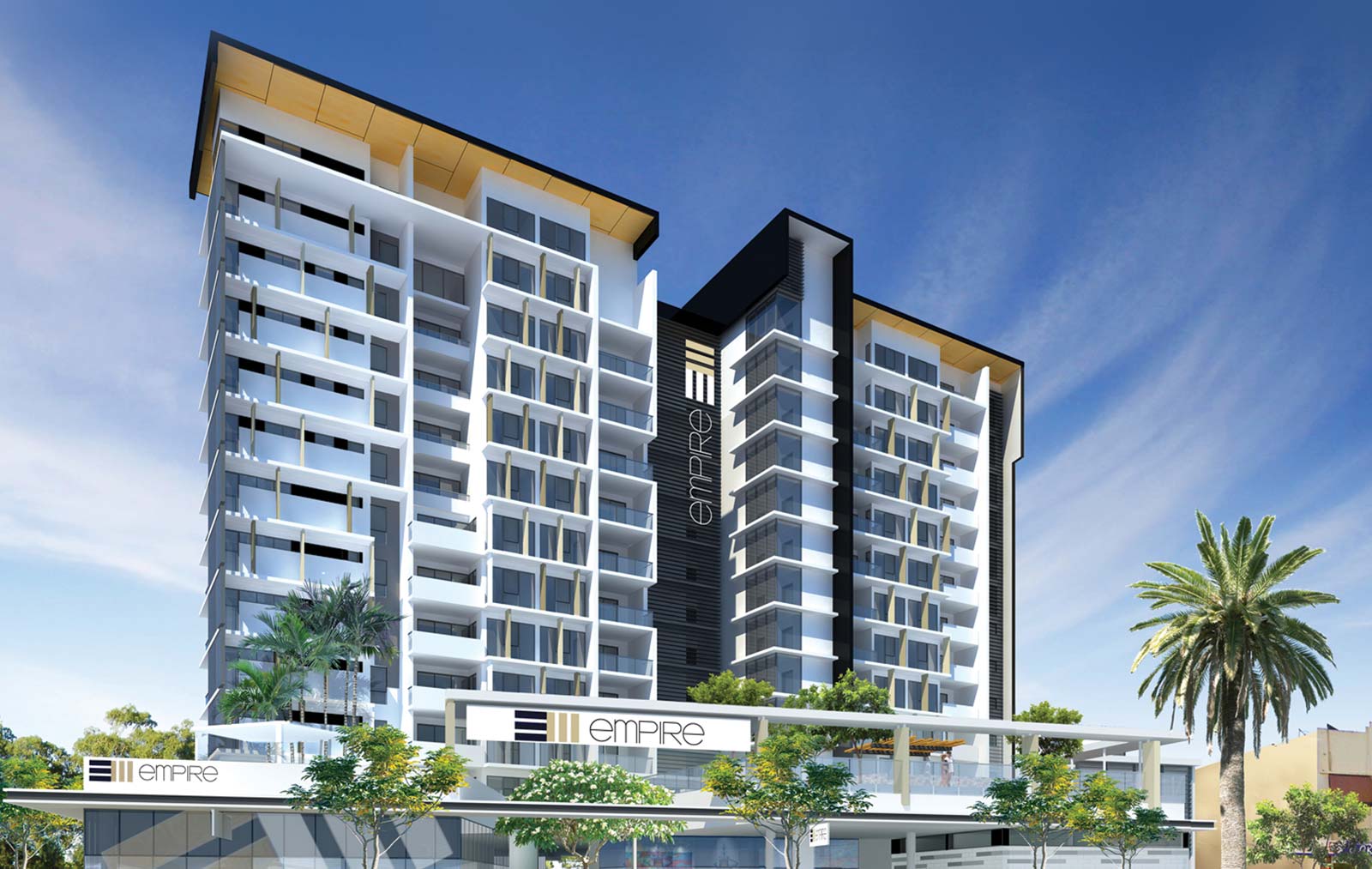 Looking for a High Yield in a safe and secure property investment

The Property Investment Company is pleased to offer you the opportunity of securing an
outstanding 7.05% Rental Income Yield…..for only $295,000 !
The "Empire" is a truly impressive, award winning Development set in Rockhampton's
prized Riverfront Location…can never be built out.

Background to this terrific investment opportunity
The developer completed the "Empire" in December 2014 and held on to 5 of the prime One bedroom Apartments for himself. He has now decided to cash up and move on to another Development and has approached The Property Investment Company to sell these Apartments.
As an exclusive offer to Clients of The Property Investment Co, the developer is prepared to sell his 5 Apartments for only $295,000 each in order to move them quickly.
All of the One Bedroom Apartments when completed (Dec 2014) were sold for $320,000 and above – so there is already an in-built profit to be had for Clients of The Property Investment Co.
Within The "Empire" there is an award winning Hotel Component

It's accolades include:
Awarded GOLD for 'Business Event Venue' and SILVER for 'Deluxe Accommodation' 2017 at the prestigious Queensland Tourism Awards!

National Winner of the Gold List 2017 with Star Ratings Australia – ranked #5 in Australia

Awarded Silver at the 2018 Qld Tourism Awards in the Deluxe Accommodation Category.
#1 on TripAdvisor in Rockhampton.

2016 Winner of the Spring Garden Spectacular for the 

Tropically Landscaped Pool and Garden

TripAdvisor Travellers Choice 2018 Star Ratings Australia's Gold List of Australian Accommodation & voted #1 on TripAdvisor in Rockhampton

Awarded Gold at the 2018 Qld Tourism Awards in the New Tourism Business Category

2016 Winner of the Spring Garden Spectacular for the Tropically Landscaped Pool and Garden
Ranked in Top 25 Hotels in Australia in 2017 with the Travellers' Choice Awards

and Top 1% in the World
Flexible Purchasing Options

These 5  apartments are zoned as residential apartments providing the investor with 3 separate purchasing options:
Option No 1: They can be purchased as Owner-Occupier apartments.
Option No 2: You can purchase an apartment as a pure investment property and appoint your own Property Manager and source your own Tenants.
Option No 3: You can Lease-Back your apartment to The Empire Management Team who will provide you with a contract to lease your apartment back to them for an initial 2 Year Period backed up by another 2 year by 2 year options (ie a minimum potential 6 year lease back) with the potential for further options to be negotiated post the expiration of the initial 6 years.
At the end of each Lease Option either the Landlord or The Tenant (Empire Management) has the flexibility to "Opt Out" of the next lease option without penalty.
The start off 12 month rental will be fixed at $20,800 (7.05% Yield) and will increase in Year 2 by 2%.
Option No 3 will be an excellent option for Investors, giving them a secured monthly rental income for potentially at least 6 years with an 7.05% Gross Yield.
Your rental will be paid every month automatically regardless of occupancy….
giving you that most valuable of commodities… Peace of Mind.
Complimentary Furniture Package

If you take up Option No 3 The Vendor will provide you with a fully comprehensive Furniture Package on a complimentary basis valued at approx. $14,000 (incl GST). This is a special offer only open to Clients of
The Property Investment Co. 
Amazing Value when compared to Sydney and Melbourne prices
Excellent buying-in opportunity for the Investor when compared to Sydney and Melbourne prices.
Exceptional "Set & Forget" Investment ideal for SMSF Investors 
The "Empire" Apartments make excellent Investments for your SMSF. Secure your income stream by taking up the lease back option with a 2 x 2 x 2 Year Lease starting off at 7.05% yield and increasing by 2% in the 2nd Year (over 100% more than current bank interest)…
Dynamic Capital Growth Potential

This is your opportunity to invest in one of Queensland's most dynamic and wealthiest regions. Rockhampton is transforming into a major economic and lifestyle hub. It is one of the main hinterlands for Queensland's mining and resources sector.
Rockhampton is also a very rich agricultural area and it is one of Australia's main centres for producing
and exporting beef.
Also, tourism is helping to drive demand in the area with Yeppoon, the gateway to Great Keppel Island and the Barrier Reef, only a 35 minute easy drive away.
The Singaporean Government has committed to spend $2.5 Billion for a joint training facility with The Australian Defence Force to be based in Townsville and the Rockhampton area.
So there is a rich diversity of business opportunities within the Rockhampton catchment area – and unlike other areas (such as Gladstone), Rockhampton is not dependant on just one sector alone for its prosperity.
There are daily flights into Rockhampton from all the major cities in Australia. Rockhampton Airport is undergoing a substantial multi-million dollar upgrade.
From an investor's perspective, there is a shortage of good quality accommodation in Rockhampton.
So "Empire" Rockhampton is ideally placed to take advantage of this dynamic growth area – and so offers the investor the potential to enjoy substantial capital growth over the years ahead.
Kershaw Botanical Gardens, Rockhampton
Location Shot
For our NSW, Interstate and Overseas clients we offer a fully comprehensive in-house service to assist you with putting the whole investment package together – either within a SMSF framework or outside of Super – including funding, accounting and conveyancing contacts. We find that these days most people are time poor so we offer a One Stop Investment Property Service. We do not charge any fees to put everything together for you – we get remunerated directly from the developer (not from you).
You are welcome to avail yourself of our 21 day obligation free holding deposit mechanism. For those clients wishing to secure an apartment without obligation all we require is an EFT of $1,000 which is held in trust for you by the vendor's solicitors.
This ensures that the selected apartment is not sold to anyone else within the 21 day period whilst you do your due diligence.  And if at the end of 21 days you decide not to proceed (for whatever reason) we simply refund the $1,000 back to you in full.
If an Apartment is of interest, please respond back to us ASAP – since this is a strictly limited release in
a much sought after location.
Now is the time to purchase with interest rates still at historically low levels.
With banks typically offering only around 3% to deposit holders the yield from an "Empire Rockhampton" apartment will kick off at 7.05%… (assuming you take the Lease Back Option)…. Over 100% more than current bank deposit rates together with the potential for attractive Capital Appreciation – whereas in effect your money is depreciating in value just sitting in a bank account.